You guys might remember one of our posts from way back when on the Pi-Plates DAQCplate board. If you don't, the DAQCplate is an add-on board for your Raspberry Pi that gives it all sorts of extra functionality (analog to digital inputs, indicator LEDs, a shutdown button, etc.).
But why bring it back up, you ask? Because they've just released the brand new, open source, multi-channel ppLOGGER! This is an awesome piece of software that will display your data as a visualization directly on the Pi or (this is our favorite part) can be easily configured to stream your data to Initial State!
You can find the complete, detailed instructions on installing and using ppLOGGER here, but I'll go over the steps briefly:
Make sure you're running Raspbian Jessie
Install/update the DAQCplate module:

$ sudo pip install pi-plates

or

$ sudo pip install -U pi-plates

Install the PMW megawidgets

$ sudo apt-get install python-pmw

Install the Initial State streamer

$ sudo pip install ISStreamer

For information on getting started with Initial State, see here.

Download and install the ppLOGGER files

$ sudo wget https://pi-plates.com/downloads/ppLOGGER-1.0.tar.gz

$ sudo tar -xzvf ppLOGGER-1.0.tar.gz

$cd ppLOGGER-1.0

Launch ppLOGGER

$ sudo python ppLOGGER.py
You should see the Data Logger window pop up. Here's a nice image from Pi-Plates of what all of the sections and buttons mean: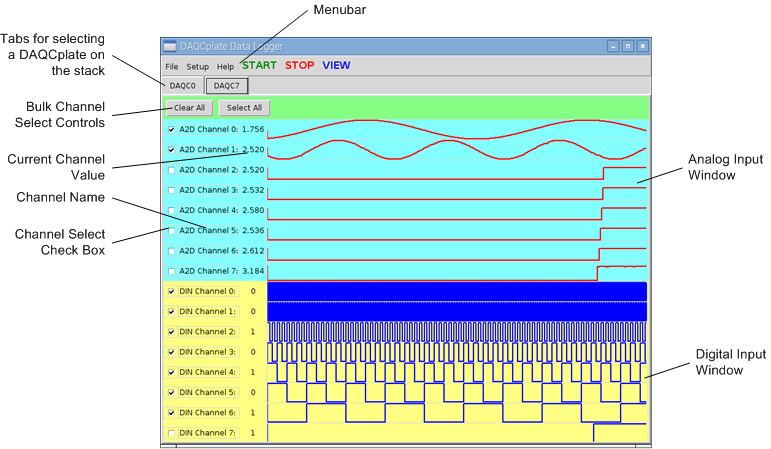 You can monitor your data directly on the Pi, save the data to a file, and/or stream to Initial State!
To set up streaming, click on the "Setup" button in the menubar and select "Streaming". You'll see a popup menu where you can enter your Stream Key (found at the bottom of your account page), the Bucket Name you'd like to see displayed inside of Initial State, and the Bucket Identifier (or key) that is unique to this bucket. The Bucket Key can be used to append to different or the same data sets.
Click the "Save Values and Enable Streaming" button, and you're all set!
You can read more about creating test signals and setting sample rate/count, but to start collecting data, just press START!
Then head on over to Initial State to view your data! Here's some of my streamed test data:
That was easy, wasn't it? If you want a cool add-on board for your Pi that also make data collection super easy, go get a Pi-Plates board!